Biography of Bishop James
---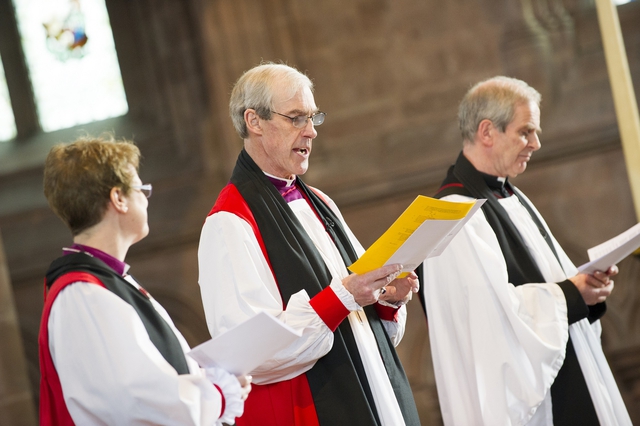 The Rt Rev'd James Newcome was born in Aldershot in 1953. His father was a soldier (Royal Artillery), as were both his grandfathers, so he moved frequently during his childhood. After Salisbury Plain, Malta and Germany the family finally settled Hertfordshire. Meanwhile he was educated at Elstree School (Near Newbury) and Marlborough College before going up to Trinity College, Oxford, to read History.
By the end of his time at University he realised reluctantly that he had to acknowledge a calling to the ordained ministry. Before Oxford he had taken a gap year and worked in Children's homes near Nottingham. He now took another gap year, working as an ambulance driver in Stevenage, and finally ended up at Theological College in Cambridge. During his time there he married Alison, and they now have four children (Edward, Clare, Alexander and Anna).
After a few months of missionary work in India he was ordained to a curacy in Watford – at a church where (he subsequently discovered) an ancestor had been the first vicar. This was an enormous parish of 28,000 people and it proved to be a firm foundation for taking charge of an ecumenical church at Bar Hill.
Bar Hill is a modern development of houses near Cambridge, and the post was combined with teaching (Pastoral Studies and Ethics) in the Cambridge Federation of Theological Colleges. The church was sponsored by the Church of England, Baptist Union, Methodist Church, United Reformed Church and Society of Friends – and he acted as minister for all those denominations with a joint congregation which shared a building. This was an exciting time for the ecumenical movement and in particular for Bar Hill church. While they were there the congregation quintupled and they built a new church to accommodate the growing numbers. Helping to design something which would serve the whole community was a fascinating exercise, and the eventual result was exhibited at the Venice Biennale.
While at Bar Hill he was also Rural Dean of North Stowe, and they eventually moved from there to Chester. To them (and their children) that seemed quite a long way north, but they enjoyed eight years there and grew fond of Chester. He was a Residentiary Canon of the Cathedral and Director first of 'Ordinands' and then of Training in Chester Diocese. Alison, who had worked initially as a nurse and health visitor, was a full-time mother, and during this time began to develop skills in upholstery and gardening.
In 2002 they moved to Cumbria where he became Bishop of Penrith – and in 2009, Bishop of Carlisle. Having created a fine garden in Kendal , Alison is now working on another major project at the new see house in Keswick – following in the footsteps of her great uncle, Eric Savill, who created Savill Gardens near Windsor. They have grown to love the Cumbrian fells and people, and in addition to diocesan responsibilities he helps with in-service training for bishops; chairs the National Stewardship Committee; is 'lead bishop' on healthcare in the House of Lords and President of St John's College, Durham. Cumbria is now the first 'ecumenical county'; and he co-chairs the Anglican/URC faith and order talks. Since 2014 he has also been Clerk of the Closet to Her Majesty the Queen; and he is a Deputy Lieutenant of Cumbria.
Other interests include 'faith and film'; reading novels; history of art, and restoring furniture. The couple walk in the fells when they can, and Bishop James runs (regularly) and continues to play squash (occasionally). Both love telling others what a wonderful place Cumbria is to live and work!