Finance
---
The following staff are based at the Diocesan Offices at the following address: Church House, 19-24 Friargate, Penrith Cumbria, CA11 7XR.
Head of Finance

Ric Jaques
Ric manages the Finance team, has responsibility for preparing the Diocesan budget, and reports on all financial matters to the Finance Committee including management accounts and the annual financial statements. He oversees the Ministry Offer system, payroll and Diocesan insurance. He also deputises for the Diocesan Secretary.
T: 01768 807761
E: ric.jaques@carlislediocese.org.uk
Senior Finance Officer

Clare Hockenhull
Clare has responsibility for the day-to-day Diocesan financial processes and assists in the production of Diocesan accounts. She can be contacted for financial queries including the payments of the Ministry Offer.
T: 01768 8077777 Ext 210
E: clare.hockenhull@carlislediocese.org.uk
Finance Assistant

Jean Harrison
Jean supports the Finance functions of the Diocese and can be contacted for queries related to parochial fees, the payment run (including the payment of suppliers and expenses), water rates and council tax for Diocesan properties and vicarages.
T: 07826 469781
E: jean.harrison@carlislediocese.org.uk
Finance Officer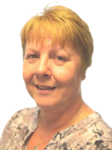 Angela Platts
Angela has responsibility for Trusts and can be contacting for any requests or queries relating to these.
T: 01768 8077777 Ext 209
E: angela.platts@carlislediocese.org.uk