Biography of Bishop Rob
---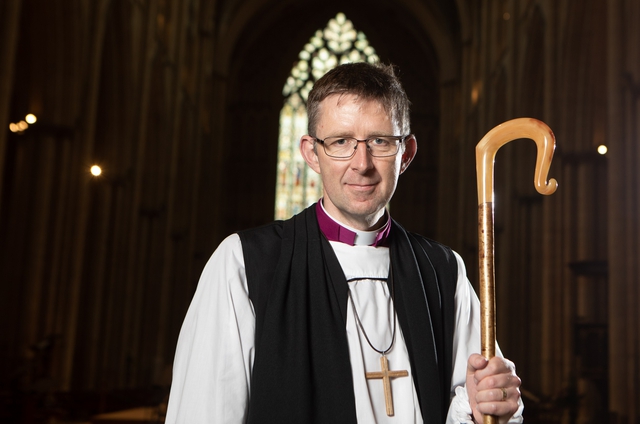 The Rt Rev Rob Saner-Haigh was consecrated the Suffragan Bishop of Penrith on Friday 15 July, 2022.
He is based in Kendal and has particular responsibility for the county's God for All strategy; that everyone in Cumbria – of all ages and backgrounds – has the opportunity to know more about God and God's purpose in their lives that they may become followers of Jesus in a Christian community.
Rob has a deep knowledge both of the county and the Diocese, having served his curacy in Appleby Deanery before serving in the parishes of Dalston with Cumdivock, Raughtonhead and Wreay.
He was Bishop's Chaplain for three years and Director of Ordinands for two and from 2010 was the Vicar of Holy Trinity Kendal and assistant Rural Dean for seven years. He is also currently a member of the Northern Mission Centre Steering Group, a collaboration between God for All and Church Mission Society to support creative and innovative mission which has its base in Penrith.
In 2020 he was appointed Residentiary Canon Director of Mission and Ministry in the Diocese of Newcastle - developing and overseeing the Mission and Ministry team, including the training and equipping of lay and ordained leaders and encouragement of mission and practical evangelism in parishes. He served there for two years prior to his consecration and a return to Cumbria.
Rob was born and raised in Birkenhead on Merseyside prior to studying for a degree in Ancient History and Archaeology at Birmingham University, later completing his MPhil research in Archaeology. After working as an archaeologist, he worked for a church in Birmingham and then as a project manager in an IT firm before training for ordination at Wycliffe Hall in Oxford. He is married to Emma. The couple have three children: Ollie, Jemima and Hal.
The title of Bishop of Penrith is an historic one, dating back initially to 1888, and then to 1944.It simply designates the Bishop who assists the Bishop of Carlisle - in technical terms the Suffragan Bishop.
The Bishop of Penrith lives in Kendal, and – with the Bishop of Carlisle – covers the whole Diocese of Carlisle which is pretty much the same as the County of Cumbria.