Christenings
---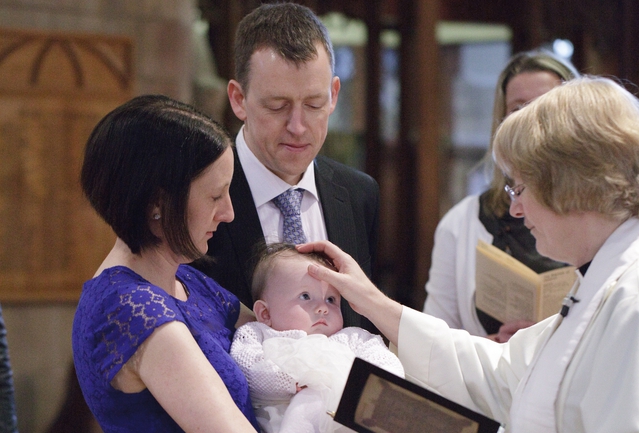 Christening is often called Baptism.
There is no difference between a christening service and a baptism service. Some churches will use the word 'baptism' and some the word 'christening'. The moment when your child has water poured or wiped on their head is the actual baptism and is at the heart of the service. Babies are baptised during a christening service just as couples are 'married' during a 'wedding' service.
Whichever word - when we are Baptised we are, by God's power, made members of His Church, adopted as His children, and given the new life and hope of the Resurrection.
Different churches have different policies about how and when they do Christenings/Baptisms and also about Godparents, etc. so it is best to check with your vicar, who will usually visit you (maybe with someone else from the church too) before the service.
There will also usually be some kind of Baptism Preparation - because the promises you and the Godparents will make at the Baptism are very serious commitments. The church where you have the Baptism will want to keep in touch with you and hope that you keep in touch with them, honouring the promises we have all made and to help you continue on the journey you have started together.
Thinking about Baptism?
It's wonderful to think that you may be considering being baptised or having a child baptised. The best person to talk to is your local vicar, and so to find your local church click on the link below. You can also visit the dedicated Christenings resources on the Church of England website.
There are also a couple of useful documents which can be downloaded below to help with the process:
Already baptised?
Those people who have already been baptised may also be considering confirmation. Why not speak to your local church for more information or if you want to re-affirm your baptismal vows.