Furness Deanery
---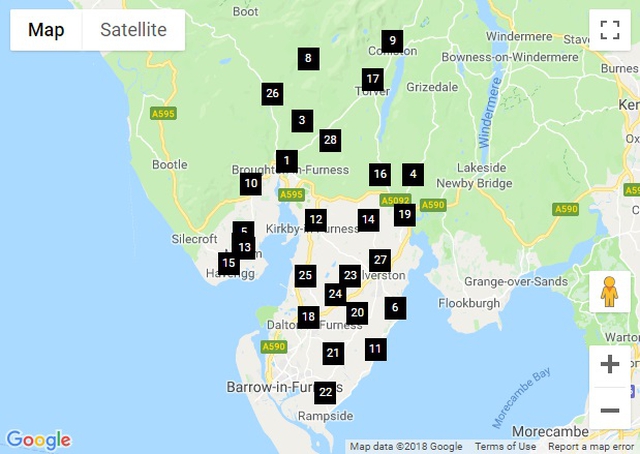 Find a Church
Mission Communities
Profile
Furness is a relatively new deanery, having formerly been part of Barrow. It is a comparatively unknown part of Cumbria, but with great tourist potential. It includes well known tourist centres like Coniston, the lively market town of Ulverston, and the less well known gems of the Duddon Valley and estuary.
It is an area of great natural beauty but much less crowded than the central Lakes. The deanery includes many historical sites ranging from the pre-historic Swinside Stone Circle to relics of the more recent industrial part like the restored Duddon iron furnace and the remains of the iron mining industry in Millom.
We also have the 12th Century Furness Abbey and ancient churches at Urswick and Holy Trinity, Millom. Millom was home to the Cumbrian poet, Norman Nicholson and a new stained glass window, designed and made by Christine Boyce of Lanercost, was installed in his memory as a millennium project. Ulverston is proud of its connection with Laurel and Hardy. It is a privilege to live in such a beautiful and interesting corner of Cumbria.
Deanery Prayer
O God our Father, creator and sustainer of everything that is. Grant to us your servants the grace and the power we need, To witness faithfully to the love of your risen Son, our Lord and Saviour Jesus Christ.
To work for the good of our communities and for all those we meet each day. To worship you in everything we do and say. So that in the power of the Holy Spirit we may for ever glorify your name, We ask this through Jesus Christ Our Lord. Amen.
Contacts
Rural Dean
The Rev Canon Ruth Crossley
The Vicarage
Market Place
Dalston in Furness
LA15 8AZ
T: 01229 462526
E: vicar@daltonparish.co.uk